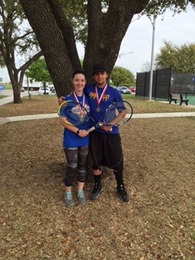 Seniors, Robin Fenoglio and Matthew Suarez, paired up as mixed doubles once again as a formidable mixed doubles team to win the district tournament. The team will compete at the Regional Tennis Tournament in Stephenville later this month.
Good luck to the pair!
read more
A big congratulations to sophomore, Taylor Carter, for placing 3rd in District Girls Tennis. Carter will advance to Regional Competition in girls' singles.
2015 High School Tennis Schedule