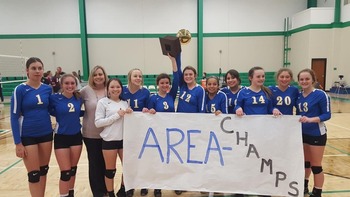 Congratulations to the Lady Bulldogs as they took Savoy in three sets to win the Area Championship title!
Lady Bulldogs will move on to Regional level and play Saint Jo. More details to follow.
read more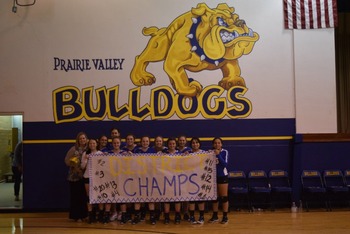 On October 23 the Prairie Valley Varsity Volleyball team played their last district game of the year. Lady Bulldogs beat the Goldburg Bears in four sets, earning the District Champion Title. The Lady Bulldogs will be moving on to volleyball playoffs for the first time ever.
The Prairie Valley Lady Bulldogs Varsity Volleyball Includes:
Senior-Kincaid Johnson
Junior-CeCe Mahin
Junior-Shelby Roof
Sophomore-Sydni Messer
Sophomore-Hailey Winkler
Sophomore-Molly Gilleland
Sophomore-Bailee Tipton
Sophomore-Cosima Ermert
Freshman-Emily Carpenter
Freshman-Veronica Gutierrez
Freshman-Randi Gilleland
Manager-Samantha Tompkins
Coached by Jeannie Carpenter
read more