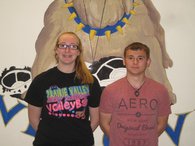 Prairie Valley High School students competed in District Academic UIL Contests on April 8 at Slidell.
Senior Katie Carter became district champion in the Science contest, winning the high score in biology as well. This qualifies her for the Regional UIL Competition.
Senior Michael Ducharme will be returning to Regional UIL Competition in Computer Applications for the second year after placing second in the District Computer Applications competition.
The duo will be competing April 25 at the Regional UIL Academic Competition to be held in Stephenville.
Special recognition also goes to the following students for placing at district competition.
Katie Carter-6th place Computer Applications
Jordan Gaston-5th place Editorial Writing
Miranda Booth-4th place Feature Writing
Matthew Suarez-5th place Number Sense
read more